Best wedding venues in Milan
Oct 6, 2022 by Elisabeth Vosatkova
We've compiled a list of romantic wedding venues in Milano. The Italian city is one of the world's most searched destinations for wedding celebrations. It's known for incredible architecture, finger-licking culinary experiences and "la dolce vita". You can say yes near the magnificent Milan Duomo Cathedral, the world-famous La Scala opera, the mediaeval Sforza Castle, and if you're a fashion enthusiast, just in front of the Vittorio Emanuele II shopping street. Explore our selection of wedding venues in Milan.
Chateau Monfort
Château Monfort takes you to a fairy-tale setting located right in the heart of Milan. The Duomo (Cathedral) and the Teatro alla Scala are nearby, as are San Babila and the Palazzo Reale. The magnificent early-twentieth-century residence, an Art Nouveau jewel designed by architect Paolo Mezzanotte, invites you into a magical environment.
Lose yourself in the rooms inspired by fairy tales and operas; unwind in the enchanting Spa Amore & Psiche; and fall in love under the crystal dome of the Lounge Bar Mezzanotte or taste the Executive Chef's exquisite cuisine.
In Milan's most romantic five-star hotel, live out a fantasy surrounded by magical rooms and breath-taking crystal domes. Château Monfort is an attractive wedding venue in the centre of Milan, near to the famous fashion alleys and the Milano Duomo.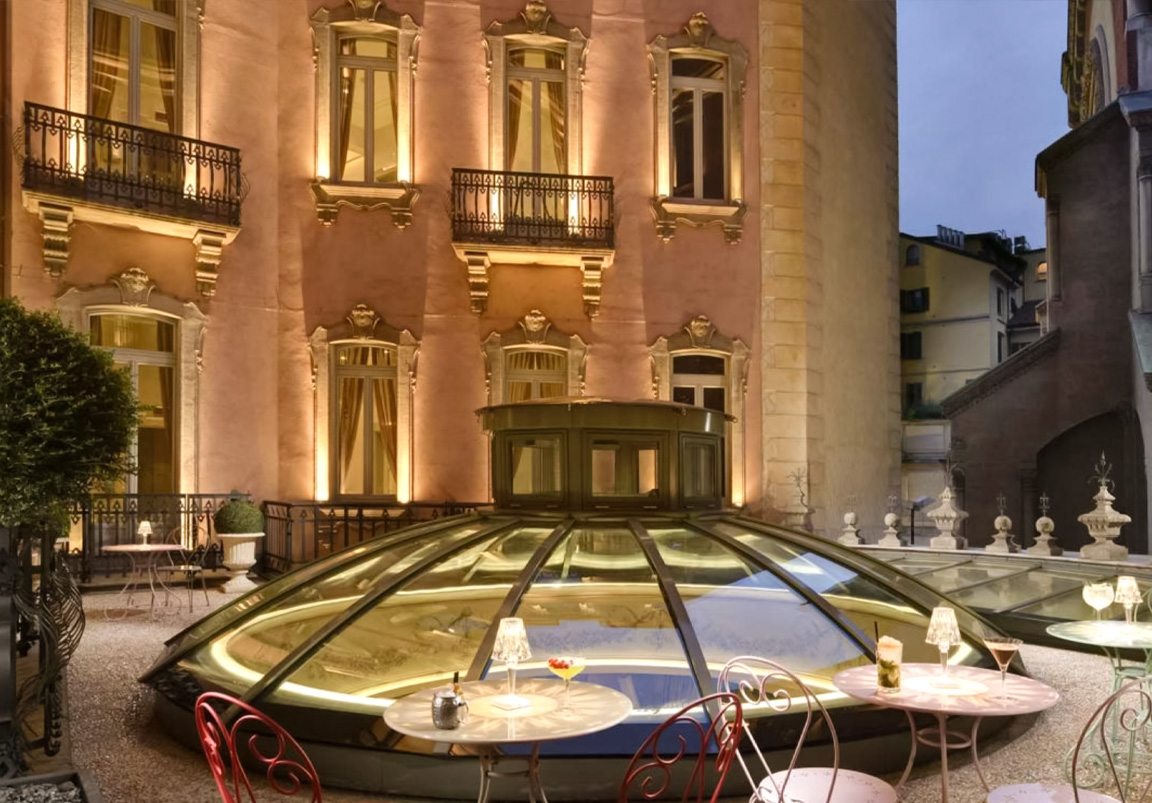 Palazzo Visconti Socrea
Palazzo Visconti is an exquisite venue for your wedding in the centre of Milan. With a long history of celebrations, events, and shows, Palazzo Visconti provides five magnificent rooms as a setting for extraordinary occasions.
Sala Visconti, which was originally designed as a ballroom, serves as the pivot for the entire complex of rooms. Because of its size, it can accommodate a big number of people and any type of event, while providing the assurance of having unique and sophisticated surroundings.
The bright and tastefully designed Sala Gentildonna may be utilised as a conference support room or as a lounging area. The Sala Presidenza is one of four smaller rooms, suited for intimate gatherings and as a speaker briefing room. The Sala Specchiera gets its name from an antique and admirable mirror that Count Edoardo Visconti di Modrone Erba had put on his fireplace. While keeping the same artistic line as the Visconti Room, the ornamentation is less lavish but no less lovely.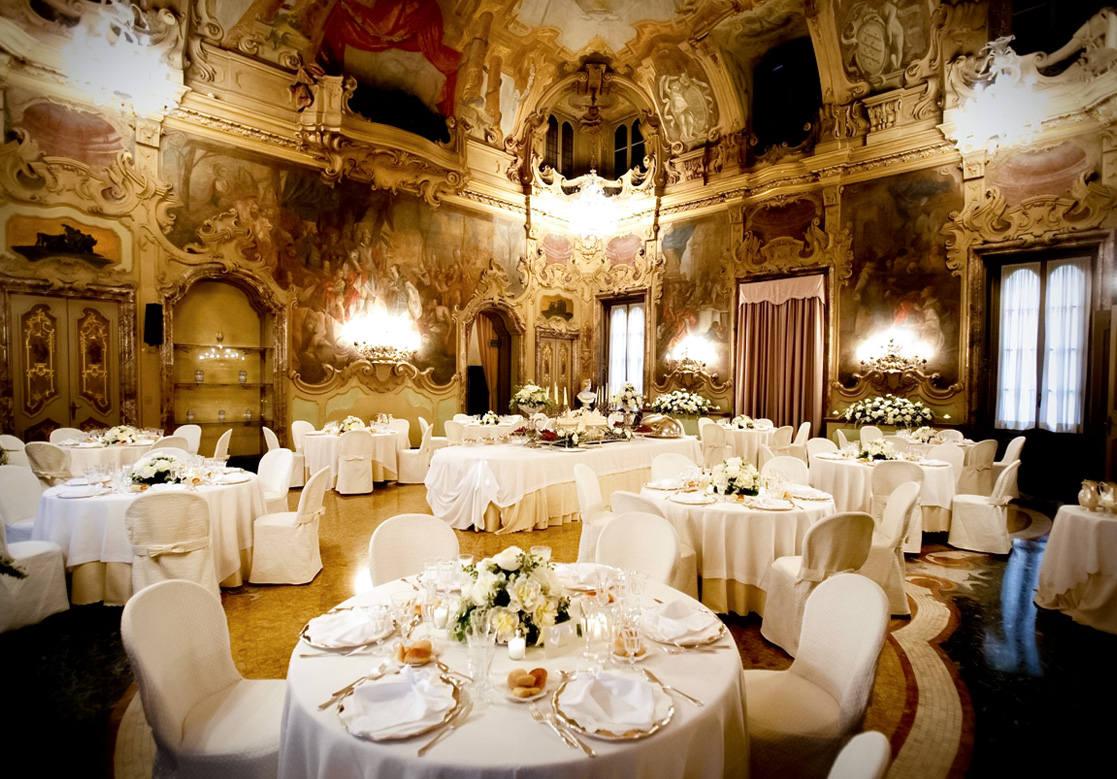 Officine del Volo
A spacious and distinguished venue with beautiful design, one-of-a-kind architectural beauty, and the sensation of a historical and modern loft, covering 1500 square metres separated into three independent halls and a private courtyard.
Upon arrival, tourists are welcomed with unique settings and a typical scene from the early twentieth century. Any dinner, gala, and wedding ceremony are enhanced by a blend of historic authenticity and a contemporary urban style.
Officine del Volo is situated in the historic area of the former Caproni aircraft factory, which makes the site a unique venue for modern wedding receptions and private parties.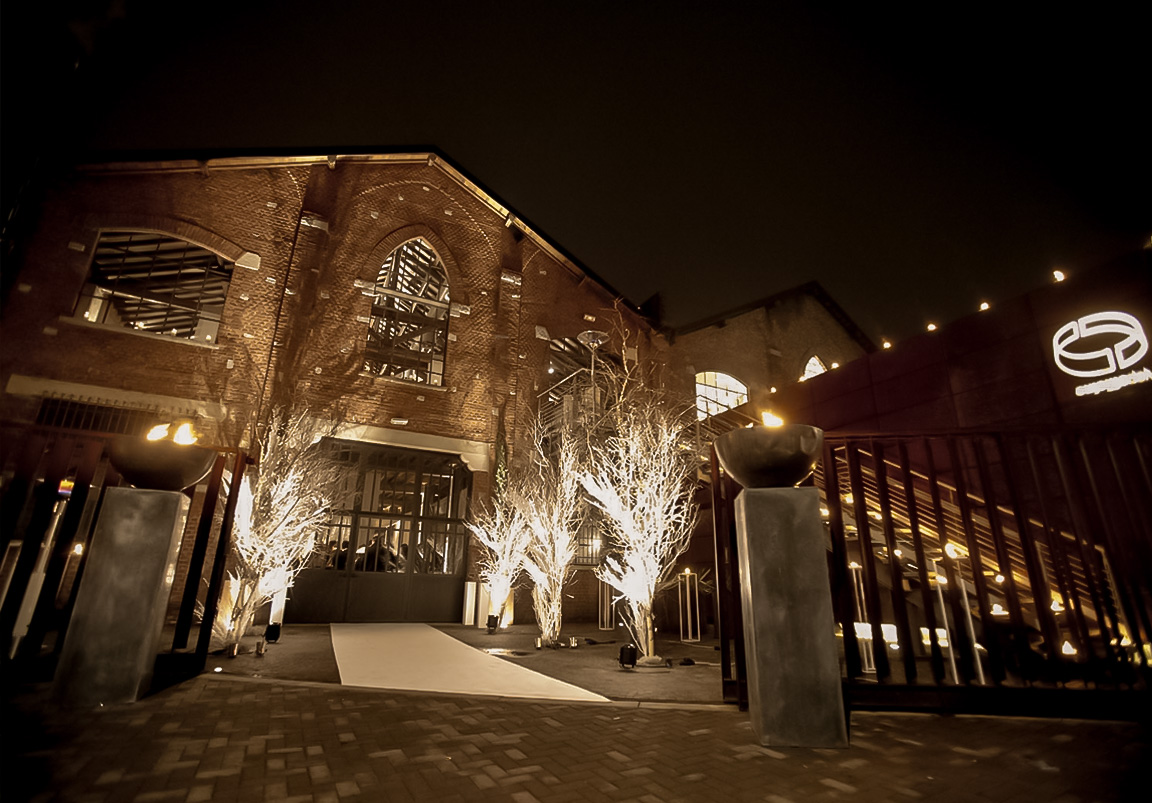 The Four Seasons Hotel Milan
Plan your destination wedding against the gorgeous background of a garden hideaway located within Milan's busy fashion district. The Four Seasons Hotel Milan offers a versatile oasis in the middle of the city, complete with grandiose ballrooms, a renovated 15th-century convent, and award-winning menus.
With live piano music in the background, you and your guests can enjoy a fully customised tasting menu developed by award-winning Four Seasons chefs.
A leisurely Mediterranean-style breakfast in bed is served to your suite on your first morning as newlyweds.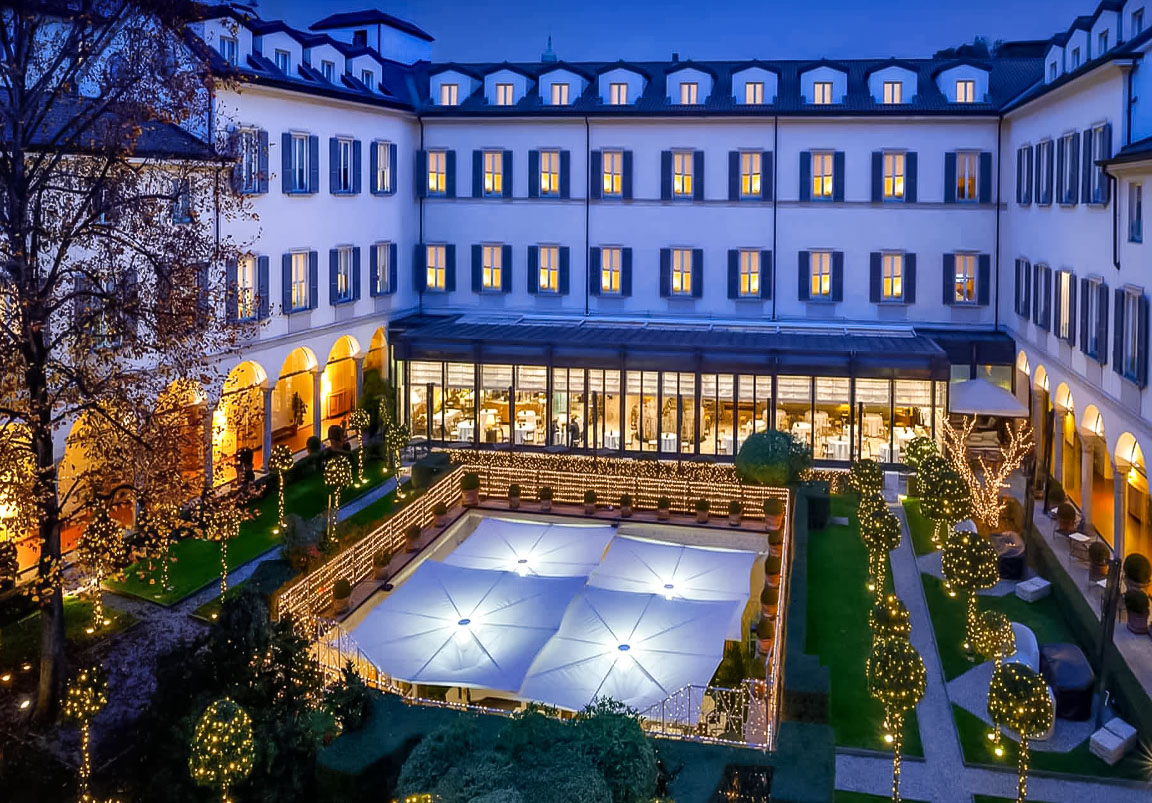 Hotel Gallia
Plan your wedding day at the Hotel Gallia Milan, consisting of 3 unique venues perfectly suitable for you celebration. The 400-sqm Duomo venue has the city's largest columnless ballroom with high ceilings and natural light. This unique room is ideal for a grand wedding receptions or other private occasions due to its separate entrance.
The Gallia Restaurant is suitable for dinner receptions, wedding celebrations, bridal banquets, and similar occasions. The Terrazza Gallia combines a rooftop setting and stunning city views for al fresco celebrations and aperitifs.
Relax at the hotel's heart, which is an inner sanctum of peace, relaxation, and quietness. The Wellness Centre is a peaceful retreat where you and your guests can relax and enjoy the unique Himalayan salt cabin, hydrotherapy, wet and dry saunas, and steam room. The premium Shiseido Spa, nestled within the Wellness Centre, offers over 130 years of Japanese Wellness Rituals.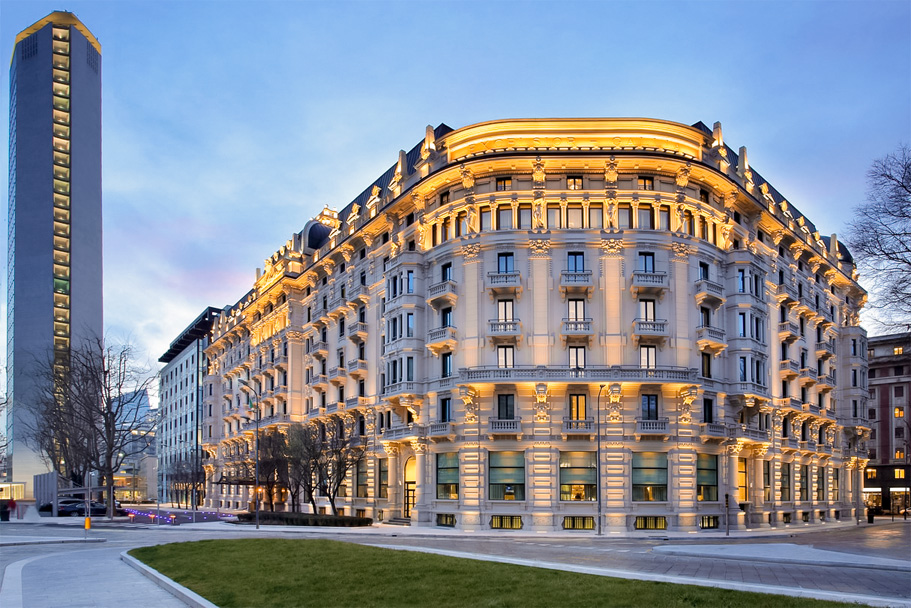 Armani Hotel
Looking for a truly state-of-the-art wedding venue? The Armani Hotel provides luxurious rooms and suites where you can relax and enjoy a variety of premium Armani accessories throughout your stay in Milan. The starred Armani/Ristorante and the private Armani/Bamboo Bar on the 7th floor are sophisticated settings to enjoy Italian gourmet food reinterpreted abroad and unique cocktails in a beautiful panoramic setting overlooking the city.
Armani/elite SPA's atmosphere reflects Giorgio Armani's lifestyle and design. A 1000-square-meter calm and wellness oasis in the heart of Milan's fashion district, with a stunning view from the eighth floor.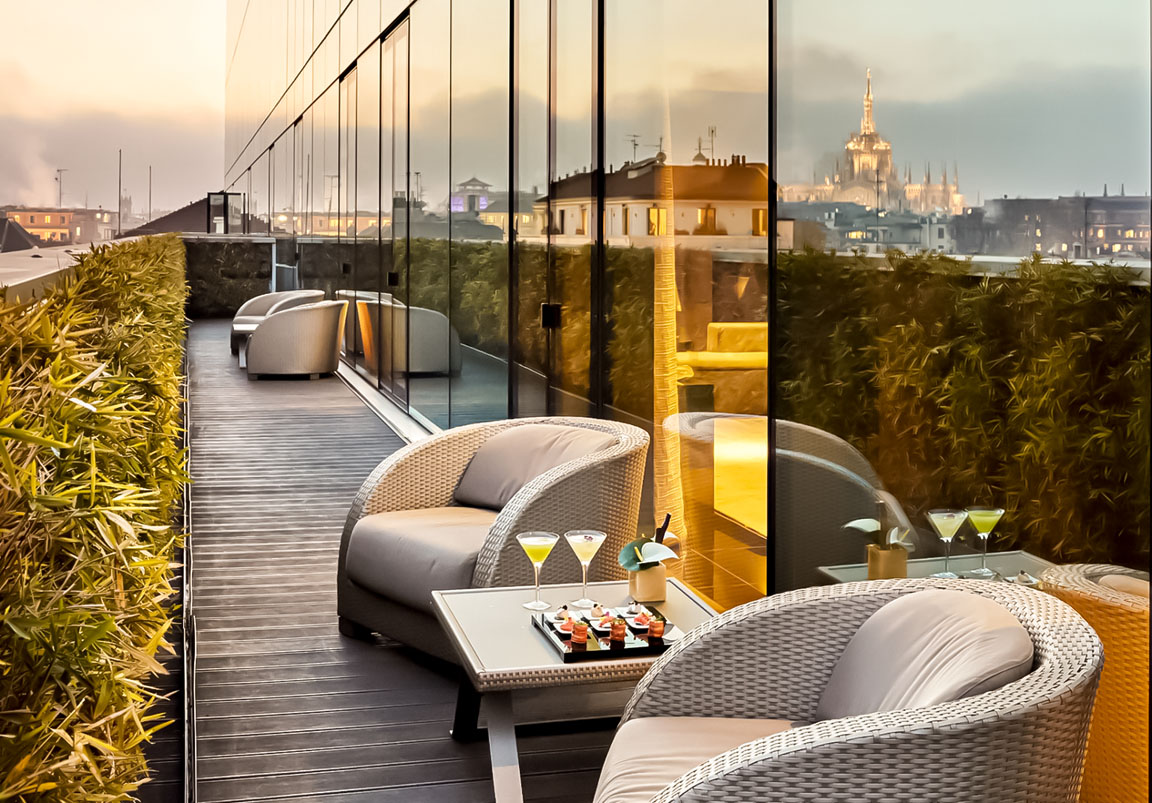 Mandarin Oriental
The Mandarin Oriental is situated in four exquisite 18th century buildings in the popular heart of Milan at the Via Andegari. Let your guests enjoy great meals in the stunning setting of celebrated chef Antonio Guida's Italian fine dining restaurant Seta, as well as the peaceful environment of the Mandarin Garden.
Unwind at the 900-sqm Spa, which has six treatment rooms, a hair salon, a manicure and pedicure studio, a fitness centre, and an indoor pool.
A wedding at the Mandarin Oriental Milan is a soul-stirring occasion for both newlyweds and guests, with the highest attention to detail. This venue will bring your dreams to reality, and you will create memories that will last a lifetime.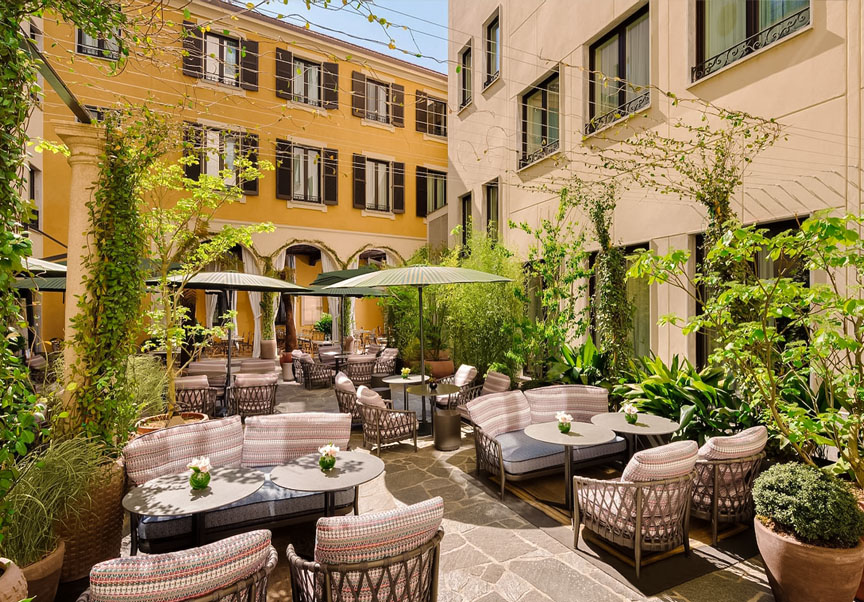 Palazzo Parigi
Imagine going down the magnificent marble staircase in your gorgeous wedding gown, while your friends and family are watching, and cameras are capturing one the most significant day of your life. Experience the exquisite Palazzo Parigi, only steps from the Milano fashion district and its tourist attractions.
Celebrate your dream wedding at a palace with brilliant marble flooring, a majestic staircase, and delightful light-filled interiors, meticulously created, and lovingly maintained by the inspiring Italian architect and owner, Paola Giambelli.
Enjoy authentic Milanese cuisine, where every dish is created with a spectacular theatre by the culinary expert himself. Immerse yourself in the five-star grandeur of Milan´s best ''Grand Spa'': a wonderful oasis with a calm setting to recharge from the fast pace of the city. Inside the beautiful arched walls, you'll find a large swimming pool, a hammam room, a yoga studio, and various luxurious treatments.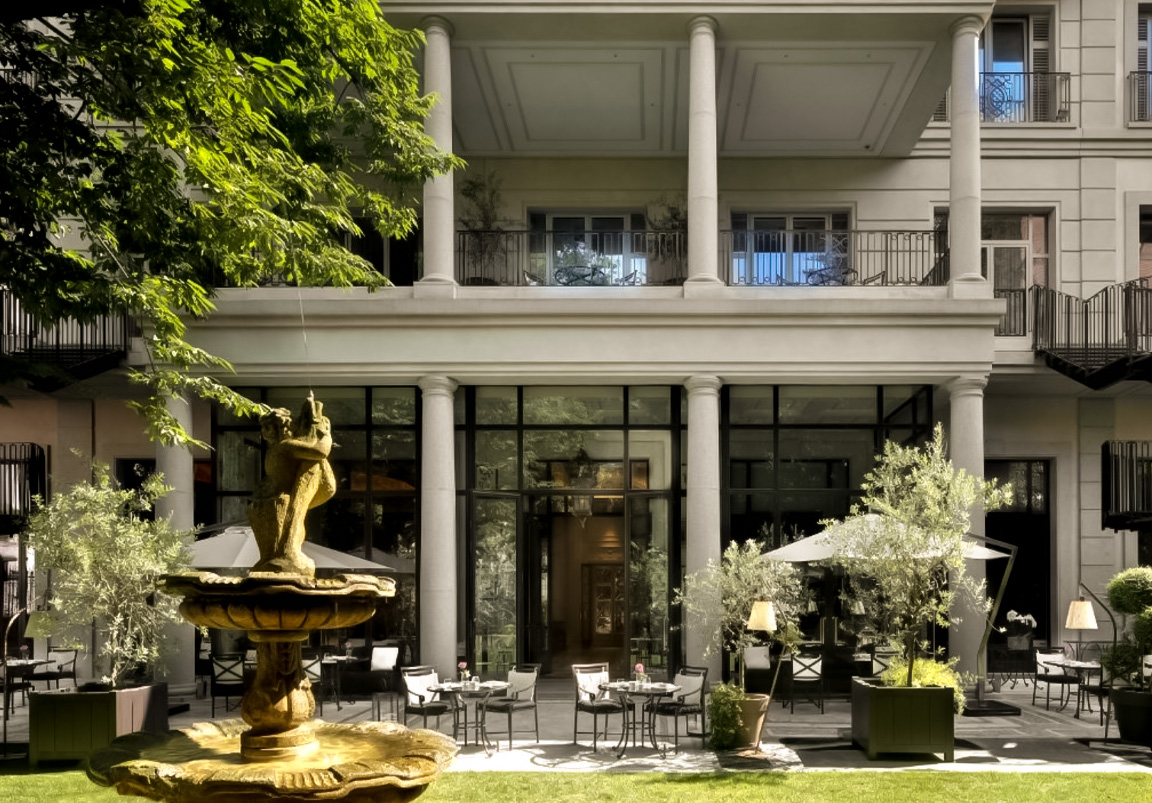 WACE Agency is dedicated to offering high-quality live music entertainment and dance performances for all types of events. Book our musicians, performers, live acts, and artists by filling out our online booking form. Enjoy exclusive entertainment and live performances at your wedding reception, private party, or corporate event.