Top 7 venues for 
your event or party in Doha
March 10, 2022 by Elisabeth Vosatkova
Doha is a renowned hospitality destination with a rich cultural heritage, prize-winning architecture, and UNESCO-recognized natural reserves. It is a place where you can easily combine business with pleasure and surprise your guests with modern event locations and entertainment. Let us present you the best venues for your event or party in this dazzling city.
W Doha
At W Doha you can choose from seven distinct meeting venues, including outside patios and gardens. Host your conference in one of the vibrant meeting rooms or celebrate a special occasion in extraordinary banquet hall areas, such as the opulent Great Room, which features an LED lit dome-shaped ceiling, floor to ceiling windows with natural sunlight, and fresh foods made by celebrity chef's culinary team. Pamper your guests and take a break from the stress and noise of hectic life by escaping to a relaxing fantasy at the W Spa at QF.

Marsa Malaz Kempinski, The Pearl
Large arched panels with Arabesque carvings grace the walls and lush carpeting lines the floors, creating a rich atmosphere. This five-star hotel in Doha provides an impressive variety of conference rooms making it an excellent choice for grand weddings, corporate events, product launches, or private parties. Convenience, comfort, and luxury perfectly describe the venues of Marsa Malaz Kempinski, The Pearl. Together with outstanding tailored catering services, this place ensures your event is remembered long after the farewells are said.
Marsa Malaz Kempinski, The Pearl

The Ritz-Carlton, Doha
A 5-star hotel in Doha, where luxury welcomes you. This hotel bridges the past with the present to create a rich, multicultural experience defined by extraordinary elegance. Treat your guests with distinctive dining options, modern rooms and suites, a unique spa journey and legendary outdoor pools. Spectacular indoor and outdoor places offer a spacious ballroom with an adjacent Pre-Function Hall and a sprawling Fountain Courtyard overlooked by hundreds of palm trees. Whether it is your special day, a business meeting, or private celebration, The Ritz-Carlton, Doha offers the perfect venue to meet all your needs and requirements.

The St. Regis Doha
The St. Regis Doha introduces 10 destination restaurants that represent Qatar's historic tradition and culture of excellence. Spectacular meeting and events facilities offer over 4,000 square meters of event space, including seven conference rooms and the Grand Ballroom, and are exquisitely outfitted with premium technology and amenities. The Olympic-size pool and private beach enable your guests to engage in a variety of outdoor entertainment and leisure activities while gazing out at or swimming in the crystal blue Arabian Gulf. Majestic surroundings, rare amenities, and timeless venues are making The St. Regis Doha the perfect choice for celebrating any special occasion.

Four Seasons Hotel Doha
Looking for ways to provide your guest with an unforgettable experience? What about a walk along the beach while watching zebras migrate, or a guided dive to discover the secret world beneath the UNESCO-protected waters? Discover the all-new Four Seasons Hotel Doha, designed with modern grandeur and glittering with sunlight and sea views. A coastal urban hideaway has been turned into a dynamic hotspot while staying loyal to its Qatari heritage, from the exquisite lobby to the energetic restaurants and bars. Four Season's eye-catching venues and the thoughtful personalized service will make your event truly memorable.

Banyan Tree Doha At La Cigale Mushaireb
Add a unique touch to your special occasion  in the center of Mushaireb, within the Doha Oasis, one of the most exciting places in this dynamic city. The Banyan Tree Doha hotel provides direct access to a major department store, an indoor experience Theme Park, and an exquisite multiplex theater. Treat your guests at award-winning spas with individual treatment rooms, heated beds, a vitality pool with a Jacuzzi, relaxation areas, brine steam room, herbal sauna, and a rain walk. The Banyan Tree Doha At La Cigale Mushaireb offers a diverse collection of outstanding venues, perfect for conferences, romantic weddings, seminars and product launches.
Banyan Tree Doha At La Cigale Mushaireb

Kempinski Residences & Suites, Doha
The Kempinski Residences & Suites, Doha, is the highest building in West Bay, measuring 256 meters. This magnificent city hotel has city or sea view rooms and villas ranging in size from 72 to 596 square meters. All under one roof: classic ambience, iconic drinks, exquisite food, and the tastiest sweets and bakeries in Doha. Let your guests unwind after a long day in the idyllic surroundings of PURE. The elegantly designed Leisure & Wellness Centre offers a place to unwind for every guest, with two indoor swimming pools for adults and families, a spacious gym, steam rooms, sauna, hydrotherapy bath, and treatment rooms.
Kempinski Residences & Suites, Doha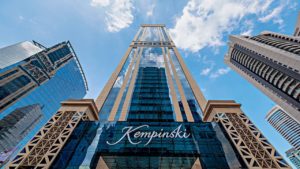 WACE Agency is dedicated to offering high-quality live music entertainment and dance shows for all types of events. Book our musicians, performers, live acts, and artists by filling out our online booking form. Enjoy exclusive entertainment at your wedding reception, private party, or corporate event in Doha.