The best venues for your event in Dubai
February 17, 2022 by Elisabeth Vosatkova
Are you sourcing the finest location in Dubai for your upcoming event? We've got you covered. We've made it easy for you to find the best venue in Dubai whether you are looking for beautiful outdoor settings or elegant interiors with exceptional service quality. Discover our selection of Dubai venues for your next wedding or private event.
Dubai Creek Golf & Yacht Club
Whether you're planning to celebrate an anniversary or a wedding at a beautiful outdoor setting, this place will meet your requirements. Dubai Creek Golf & Yacht Club has a unique vibe, situated between the quiet surroundings of the peaceful Creek and just a 'drive' away from the busy City Centre of Dubai. The magnificent Clubhouse, with its design imitating the sails of a traditional Arab dhow, has been one of the most photographed sights, expressing the spirit of Dubai's sailing traditions and presenting the ideal combination of tradition with modernity and style.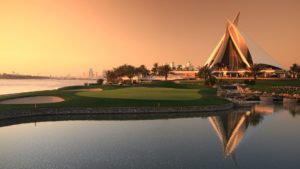 Atlantis, The Palm, Dubai
An iconic entertainment destination formed from two world-class resorts that provide you with amazing experiences. Discover a beautiful world of cuisine, entertainment, activities, and wellness. Everything is possible at this place with breathtaking surroundings, the world's largest waterpark, world-class restaurants, and never-ending nightlife opportunities. Atlantis, The Palm's excellent hospitality services will amaze and excite your guests, going above and beyond to ensure you have an unforgettable stay.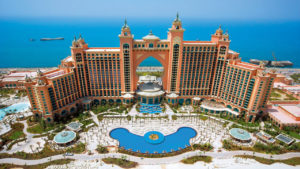 W Dubai – The Palm
W Dubai – The Palm is located on the West wing of the Palm, with breathtaking views of the entire city of Dubai and the Palm. When it comes to events and celebrations, everything is possible thanks to the many options of this incredible venue. Discover the fancy WET deck featuring unlimited views of the Dubai skyline, where you can enjoy delicious drinks and snacks. The W Dubai – The Palm offers a private beach and various pools with live music and entertainment all day (and night) long.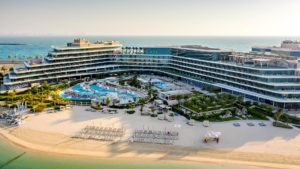 Sofitel The Palm
Sofitel The Palm is a five-star luxury beach resort located on the East Crescent of the world-famous Palm Jumeirah. To provide a one-of-a-kind, exquisite experience, Sofitel takes inspiration from local culture and history while also celebrating the French art de vivre. Treat your guests and visitors to elegant conference halls, stunning beachfront villas with private pool and Jacuzzi, 12 exclusive restaurants, bars and lounges, and beautiful outdoor locations. Nine unique meeting rooms and a beautiful ballroom are available for your conferences, business meetings, private parties, and team-building activities.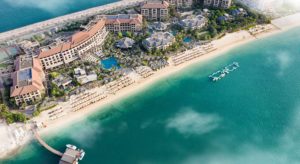 Kempinski Hotel & Residences Palm Jumeirah
Providing the perfect stay includes taking care of your visitors' physical, mental, and spiritual well-being. Kempinski Hotel & Residences Palm Jumeirah is the perfect destination in Dubai to unwind, relax and truly recover from a busy lifestyle or routine. It's location on the beautiful Palm Island makes it excellent for beach weddings, outdoor parties, social events, parties, and gatherings, with its private beach, gardens and terraces providing breathtaking views of the Dubai cityscape.
Kempinski Hotel & Residences Palm Jumeirah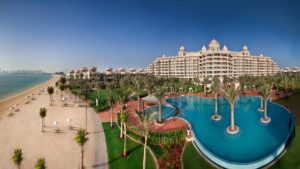 FIVE Palm Jumeirah
Stay, dine, and have fun at Dubai's luxury hotel. The FIVE Palm Jumeirah's offers the right event venue for any occasion, from spacious indoor and outdoor areas with breathtaking skyline views to luxurious suites and penthouse villas that guarantee you a truly unforgettable experience. Enjoy the fanciest drinks at Dubai's open-air rooftop bar "the Penthouse", with spectacular views of the Dubai cityscape. FIVE's famous Social Pool creates the ideal Instagram moment for you and your guests. This iconic location is well-known for attracting celebrities and personalities from all over the world.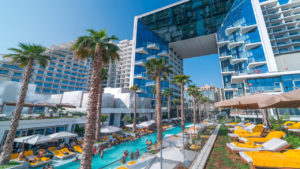 One & Only The Palm Dubai
Embrace the dazzling glamour and elegance of Dubai's most exclusive wedding ceremony and reception venue, with spectacular views of Dubai as the background to your enchanting love tale. You'll find a private paradise. Sunbathe on the beautiful beach, relax on spacious daybeds beside the temperature-controlled big pool, and enjoy al fresco cuisine pleasures. One & Only The Palm Dubai will exceed your expectations, whether you're throwing a birthday celebration or a beloved wedding reception. Host your next event or party in one of the resort's exquisite venues with world-class service.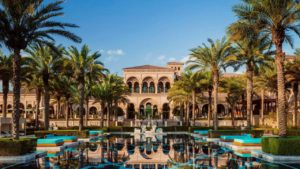 Burj Al Arab
The Burj Al Arab is the only 7-star hotel in the world consisting of some of the most luxurious suites in Dubai, with marble and gold interior bathrooms, a heated outdoor infinity pool, private cabanas, and a private helipad. The Burj Al Arab is located on an artificial island with breathtaking views. Enjoy the exclusive Al Muntaha restaurant with sky views and a panoramic elevator, built 200 meters above the Persian Gulf, or the Al Mahara restaurant, which has a gigantic seawater aquarium around its tables.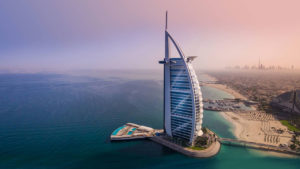 Address Jumeirah Beach Resort
With spectacular backgrounds of the sun sinking over the water, Address Jumeirah Beach Resort offers magical views to make your special event truly unforgettable. The hotel consists of the highest infinity pool in the world and first-class wellness and fitness facilities. Address Jumeirah Beach Resort offers a variety of luxury event spaces, including a Library, Majlis, and a Show Kitchen, where world-class chefs and beverage mixologists provide you with a first-row dining experience.

Armani Hotel
Enjoy the breathtaking views of The Dubai Fountain from all of the Executive suites and discover the beauty of a one-of-a-kind living space personally designed by Giorgio Armani in The Dubai Suite. Choose from five world-class restaurants, all of which have stunning terraces with views as breathtaking as the cuisine. Experience Armani's timeless style, exceptional service, outstanding food, and signature elegance. The Ballroom can seat up to 450 guests and provides a refined 'blank canvas' environment. The Pavilion can accommodate up to 1000 guests, making it the perfect venue for exclusive weddings and corporate events.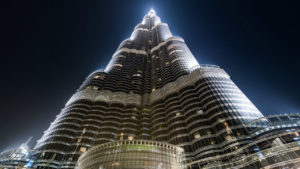 WACE Agency is dedicated to offering high-quality live music entertainment and dance performances for all types of events. Book our musicians, performers, live acts, and artists by filling out our online booking form. Enjoy exclusive entertainment and live performances at your wedding reception, private party, or corporate event in Dubai.